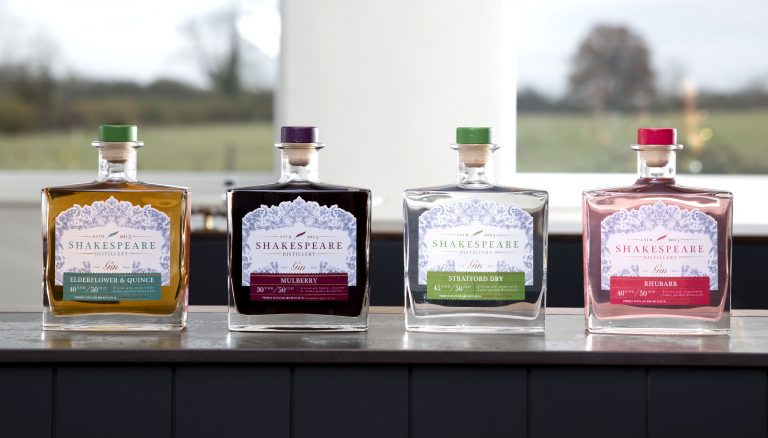 Here at PJF head quaters we have been licensed for many years, and very often send out a bottle wine/ prosecco, champagne with a beautiful floral gift.
This year we are pleased to announce we will be stocking the fabulous Shakespeare Distillery Gins
Pop-up Gin Bar - 28th November
We will be launching our "Gin and flowers" designs at this weeks Love Coleshill late night shopping and Christmas light switch on event , which takes place Thursday 28th November. For one night only we will be opening our beautiful little shop as a bit of a Gin bar:-)
About Shakespeare Distillery
Shakespeare Distillery is an artisan spirit producer, established in 2015. Everything we produce is in small handcrafted batches, ensuring we can devote our time and attention to creating the best tasting spirits around.
Being based in Stratford upon Avon, we wanted to create something authentic to our area and what is more authentic to us than Shakespeare? Of course we couldn't distil the bard himself into a bottle but we could look at the Tudor period in which he lived and bring the essence of this into our spirits, the first of which is Stratford Gin.
The Tudor period was a significant time for spirit production, it was a time of change, the monasteries had a stranglehold on distillation (the process used to create an alcoholic spirit) and its primary purpose in their hands was medicinal. Thanks to Henry VIII's dissolution of the monasteries the Tudor period became a time of great discovery, experimentation and innovation within the world of spirit production as people soon discovered it could be a very nice recreational drink too. Thanks Henry!
At Shakespeare Distillery we aim to recapture this period of innovation by fusing traditional and in some cases forgotten ingredients with modern techniques to create exciting new spirits.
We will be stocking the following Gins in bottles, and gift sets :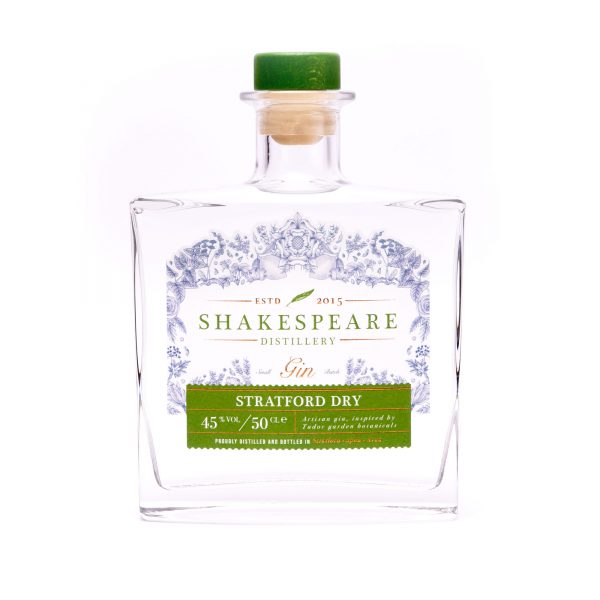 Stratford Gin - is our Signature and award winning (IWSC Silver Outstanding) product. It's a London dry style with a strong juniper base, combined with the flavours you would find in the Tudor herb garden such as Old English Lovage, Rosemary, Rose, Sage and Lemon Balm as well as the more classic gin botanicals of Coriander, Angelica and Citrus, creating a distinctive and truly delicious gin. (45% ABV)
Rhubarb Gin- Rhubarb was commonly used to cure ailments in Tudor times and has since become a British favourite. We blend Rhubarb juice with our award-winning Stratford Dry Gin to produce a deliciously tangy full-strength gin. Nothing artificial goes into our gin, each bottle contains over 40% real Rhubarb juice, we don't over sweeten it, so you taste real gin with a mild tang of Rhubarb, a delightful combination. (40% ABV)
Elderflower and Quince - The newest edition to the range. We blend our award-winning Stratford Dry Gin with the quintessential British flavours of Elderflower and the noble Quince; no fruit was more highly prized in the Tudor period. Subtle apple notes from the Quince fuse with the mild sweetness of Elderflower to create a deliciously fruity, full-strength gin. Nothing artificial goes into our gin, we don't over sweeten it, so you taste real gin in every mouthful.
New Place Edition, Mulberry Gin - Shakespeare famously planted a mulberry tree in the gardens of his home 'New Place' in Stratford upon Avon, where one still stands to this day. This special edition of our Mulberry Gin Liqueur uses the Black Mulberries that we are privileged to be able to harvest from this tree which we steep in our award-winning Stratford Dry Gin for several months to create a deliciously deep, rich and fruity style of gin.