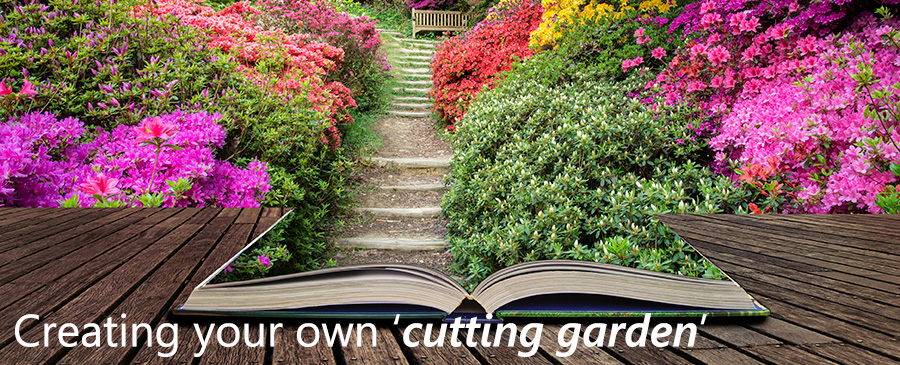 I very often get asked - "what flowers should I grow in my garden, that are suitable to cut for floral displays?".
With everyone's improving attitude towards carbon footprint, eco-friendly designs and love for nature, growing your own 'cutting garden' is proving to be increasingly popular.
You may want to design and produce your very own creations, be it to adorn your home, create a personalised gift for someone, or for the more adventurous, even provide flowers for a special event such as a wedding.
At Penny Johnson flowers we buy locally grown flowers whenever possible - we have English grown Tulips, Anemone and Daffodils in store this month - but as a commercial florist we still have to import blooms to enable us to provide all the designs we offer for general gifts, tributes, weddings and exhibitions.
We are very conscious about the environment and I suspect as time goes by more fresh stock will become available locally as more farmers set up growing flowers commercially.
This also goes hand in hand with the products we use, since opening our shop we have wrapped flowers in tissue and brown paper and tied together with raffia and natural twine, more recently we decided to wrap our hand tied bouquets differently, swapping the traditional cellophane for a more eco-friendly paper wrap, that has proven to be quite popular, although some biodegradable cellophane is still used
Moving forward we will try to reduce the amount of single use plastic we use, this will take some time, but we are determined to make a start and substantially reduce this over the next few years. Offering natural willow base designs for funeral tributes is also something we have done since we began some 17 years ago, but now we are even more aware of the importance of sustainability and these designs I'm sure will become even more popular.
This little blog is about flowers and foliages you can grow in your gardens and in containers for your own use, I've added a list of suggested flowers and foliages for each season, there are so many this is just a taster. Our spring floral workshop will introduce natural frame work and spring seasonal flowers and foliages, I hope this helps get your creative juices flowing and inspires you to have a go at planting at least a couple of flowers/foliages that you could utilise in your very own designs.

The cut flower that springs to mind for March is the fabulous Narcissi. commonly known as the daffodil, they remind us that spring is on its way and warmer times and lighter nights are ahead, thus bringing a smile to those who love them, like I do. There are many varieties available and they come in shades from pale lemon, creams to vibrant yellow - some even have the most adorable scent. Some blooms are forced for early blooming but for the month of March this is definitely the flower.
April brings more gorgeous flowering bulbs into our lives such as Tulips, Muscari, Anemone, Ranunculus, Bluebells, and Crocus all work in floral designs along with Hellebores, lush green foliages and vines that will be due for cutting back in your garden at this time. Frames can be made with the cut vines and willow, adding further stems of pussy willow to create a natural frame for your spring floral arrangement, be it a circular wreath, heart shape or just framed over a container vines and willow are so versatile.
May brings warmth into our gardens and the flowers really start to bloom, adding texture, depth and colour to your flower displays for me May, begins the "wedding season" delicate blooms of Lily of the valley are ready for the picking and although they may need a little help from a fine florist wire for support, Convelaria majus is one of the most beautiful scented blooms, they are also very expensive to import for commercial florists, so to grow them at home is very cost effective. Weather permitting, peony will also begin to bloom the end of May into early June, when it is usually at its best
Hyacinths
Muscari
Narcissi
Bluebell
Crocus
Hellebores
Pelargonium attar of rose
Euphorbia
Pussy willow
Magnolia
Tulips
Anemone
Ranunculus
Lily of the Valley
Forget me knot
Cornflowers
---

Pure lush in the garden at this time, bursts of colour and scents an Aladdin's cave for florists- June is the usual month for Peony, another wedding bloom favourite and has been on trend along with Eucalyptus for quite some time now, it is also the best time for cutting Roses. Early English garden flowers such as Delphinium, Larkspur, Antirrhinum fabulous flowering vines such as Jasmine and Clematis, Astrantia, Godetia, Campanula Nigella early flowering Hydrangea to name a few, also cut those blooms ready for your dried flower collection.
August historically known for being a dry month (although recent years this has not been the case) Roses, Cosmos and Sweet Peas are ready for the picking along with Dahlias , these are a particular favourite of mine , so many varieties in all shapes, sizes and colours they add pops of colour and great texture to floral designs.
Roses
Garden pinks
Early Hydrangea
Poppies
Sunflowers
Tagqetes
Nicotiana
Zinnias
Dahlias
Nigella
Lavatera
Godetia
lavender
campanula
Astrantia
Mint
Trailing vines
Clematis
Jasmine
Peonies
Phlox
Sweet peas
Larkspur
Delphinium
Hydrangea
Scabious
Snapdragons
Cosmos
Foxgloves
---

Over the past few years September has been a sunnier month our summer blooms have continued to flourish in our cutting gardens until the first frosts in October. dahlias are also in abundance in September along with Achillea, Sea Holly (Eryngium) and Verbena. Delicate Zinnia will also grace us with their presence in September.
October / November - flower of the month of October Dahlia The variety "cafe au lait" has proven to be particularly popular with weddings over the past few years, its neutral shades and large bloom are great for creating big wedding designs, such as arches and large hanging floral displays , autumn blooms , November is limited for florists choice cutting blooms
Roses
Dahlias
achillea
Verbena
Eryngium
---

December / January is a quiet time in the flower cutting garden , herbs and gorgeous winter foliages such as Viburnum, skimmia, Laurel, Myrtle and Rosemary along with traditional Holly, winter berries, mistletoe some hardier blooms such as Cosmos, Hellebores and winter heather will adorn any festive table, add to the most glorious design lead winter door wreath. Cut branches from trees such as Ash, Beech, Oak and Maple will add structure to your designs and are perfect for creating frames Honesty and snowdrops add a delicate bloom to your arrangement.
February - longer days begin in February, Hellebores, Crocus and Rosemary are perfect for that rustic/ natural theme, in simple jars decorated with twine and hessian these are very popular for "rustic" wedding venues such as barns, tipis and marquees.
hardy annuals Cosmos
herbs and foliage
Pelargoniums
Viburnum tinus
winter flowering Honeysuckle
winter Heather
winterberry
Magnolia
Laurel
Myrtle
Viburnum
stems of Rosemary
dried dill
branches of Sage
dried flower buds from Oregano
branches of Oak, Ash, Beech, Lime and Maple
Honesty
Snowdrop
Crocus Joan of Arc
Cyclamen
rosemary officinalis
Hellebores
vine